---
Mighty Oaks Launches OMNION Locker Program
- Oct. 3, 2016
OMNION Launches in partnership with Mighty Oaks and LockTec.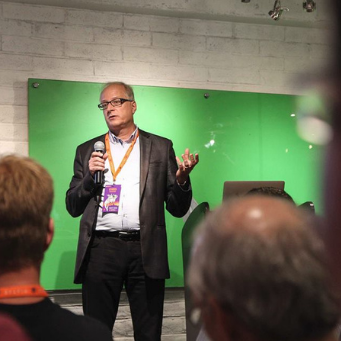 OMNION Inc., the newest member of the Mighty Oaks Group of Companies, is now offering last-mile delivery locker technology in North America based on proven European equipment.  OMNION reaches an agreement with LockTec GmbH of Weissenbrunn, Germany, to distribute cool locker technology in North America.
Chris Westra, CEO OMNION Inc. at Fort Techtoria and the eXperience Techtoria Launch and Learn event. 
For too long when consumers order groceries or other products online they need to be at home to wait for the delivery driver or risk the product being left unattended.  Online food suppliers need to utilise excessive packaging to deal with food being left in unrefrigerated locations.   This technology changes that.  Elder Matias, Mighty Oaks CEO said: "With major international retailers such as Amazon and Walmart getting into the online groceries market in Canada, traditional regional grocers need to adapt, and we are helping them, SMARTLockers are going to be a critical success factor going forward." The multi-carriage approach even allows to create a local locker-infrastructure as backbone for any kind of unattended deliveries in order to support e.g. local farmers and any local services, not just limited to grocery-deliveries.
In Europe lockers off all types are appearing in convenience stores, the metro, gas stations and retail outlets.  In the UK one major online retailer has rolled out several hundred lockers.  This trend is just starting in Canada and the United States. 
Chis Westra, OMNION CEO said: "The business and organizations we are working with view this technology as a critical differentiator in the market place.  Once a business realises how this technology can both reduce costs and greatly improve customer experience, the interest is strong with a compelling ROI".  The OMNION advantage is based on the LockTec cool locker equipment and custom software integration, which can be coupled with Mighty Oaks Mighty+ e-commerce and delivery fleet management software or integrated with other third party software. 
Intelligent and cool lockers have been installed and in use for several years in Europe, Australia and Asia. Olaf Clausen Managing Director of LockTec said "Our German manufactured locker equipment has a proven track record since decades and with a North American based partner we are expecting similar success to what we have experienced in other markets." The LockTec patented design is used by retailers, couriers and transport companies and manifold other business incl. left luggage storage, safe-keeping of bicycles, unattended power charging of cellphones and others.
While consumers continue to embrace purchasing online, the challenges traditional retailers face is adapting their business model to an omni-channel approach that unifies the in-store and online experience.  This type of locker technology addresses that in a way that is fun, fast and secure.  Westra said "Our innovative technology ensures that your online business and endpoints are finally talking, locking in business."