---
Fast Grocery Retail – The Growth of Online Grocery
- Oct. 2, 2018
1.     Elite customer experiences demand an evolving fast-retail strategy defined in short time horizons (6-12 months) with close-to-consumer self-service channels including proximity-based inventory distribution, fulfilment network and on-demand delivery, with both traditional grocery standards (such as milk and bread) together with health-oriented dietary choices (such as salads and organics). 
2.    There is the increasing complexity with the expansion of e-commerce logistics and the omni-channel model. The solution to this problem is to rethink food production/processing, shipping and location strategies, such as offering ship to store, in-store fulfilment and automated locker networks, using stores as a distribution center and increasing the marketing and visibility of high-volume and convenience-focused products. The enlarged convenience store (c-store) model potentially checks all these boxes.
3.    C-Stores, along with smaller-footprint stores (1000-2000 sq. ft.), allow for agile operational models for profitability and supply chain revenue growth as both proof of concept modelling and real-time analytics for lessons learned to help win the online grocery battle.
4.    The extension of self-service stores including c-stores and small footprint stores, rather than dark stores, reduces supply chain complexity with a single supply chain boosted by technology and integrated solutions in-store: personalization, each-picking automation, transportation proximity, focusing on low prices with locker and curbside pick-up automation.
5.    A clear value proposition is decisive including subscription models that work torevolutionise loyalty together to drive the expansion of e-commerce logistics and automation, including the challenges of inventory management (start with 500 or less SKUs).
The Top 3 Constraints for Online Grocery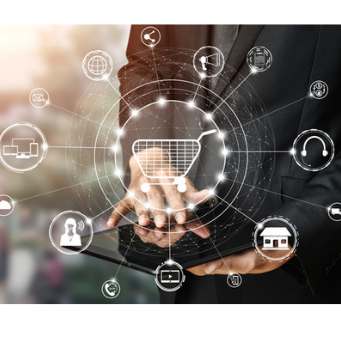 In a recent Forrester study, the top three reasons cited for why customers don't shop online for groceries include the need to see and select fresh food, the speed of getting productsand cost of delivery (the so-called last mile problem). These challenges give companies plenty to work on if they are to achieve scalable growth and build success for online grocery as it continues to change, evolve and grow.
The real-time human touch/feel requirement in selecting fresh food is one of implementing a personalization strategy. This customer-centric strategy, with outside-in processes, is #1.  The narrowing constraint of freshness for both in-store and on-line defines planning for new customer service levels 100% focused on convenience with selection experience needed to change consumer behavior. The three necessary attributes are quality, transparency, and visibility. 
Speed (supply chain velocity) has as its' #1 goal proximity inventory and proximity pickup-delivery. In other words, getting closer to your customers. Inside (BOPIS) and close-to-store, curbside and out-of-home pick up networks will help define the speed to market and the new customer-centric value chain.  This focus on last mile planning is correlated to a density of physical and delivery locations, assets that allow for a balance of speed, service and costs, to encompass both responsiveness and efficiency. 
Demand driven tools and models with high performing supply chain attributes are #1 when it comes to integrated delivery strategies. These attributes include distributed density, transportation aggregators and partnerships, and an agile logistics model all improve process efficiencies while ensuring cost reductions.
Learning through Doing: Customer Pick-Up or CPU as a key short-term initiative for lessons learned with "real-time fast retail"
A clear objective is an ecommerce strategy that "clicks" with both retailers (suppliers) and consumers (buyers). Fundamentally, it's about managing change. There's the need of a collective will for existential movement forward. There needs to be an executive commitment to change and moving rapidly towards an anticipated future using short-term initiatives for lessons learned. The online grocery disruption is something new, a result in part of the Whole Foods acquisition by Amazon and as a whole with the convenience-focused consumer, where the future of urban grocery is mobile, smaller, and faster. 
A short-term initiative is a network of convenience stores (c-stores) that cater to specific geos and market demands. They're agile, driven by AI (deep learning) and change locations and products based on evolving economic conditions. E-grocers must get to omni-channel operating in a unified way, a convergence of in-store and online. A C-store is a practical way to get this omnichannel model working. The functional requirements are defined by seamless and frictionless customer experiences and innovative improvements in inventory management and logistics to ensure these challenges are not only met, but with a long-term strategy for loyalty and growth. A C-store with CPU represents a control model and "ecommerce lab" that combines the operational simplicity and focus on well-defined categories, data inputs/distribution and market sales needed to develop a deeper ecommerce long-term strategy and execution. 
It's clear that a major challenge and problem facing online grocery is inventory strategy, planning and management. The traditional centralized model and transportation methods with large-scale replenishment sizes (pallets, cartons and container loads) and well-defined product cycles do not fit the ecommerce model (packages, eaches-picking, proximity) with immense product variability, ever changing, and an almost unlimited approach to products. Aligned with market trends, the mobility-driven consumer demands immediate gratification, a personalized experience, with dynamic online purchasing behaviors, similar logistics velocity, and pick up speed needed to reinvent the older, pre-online models. 
There's no 'secret sauce' when it comes to testing new tech, disruption, disruption disrupting disruption. It's a confusing journey. We'll dive in for a closer look into retail's C-Store future in our next article, stay tuned.