---
Event - CFIG Vancouver-2016
- April 4, 2016
Grocery & Specialty Food West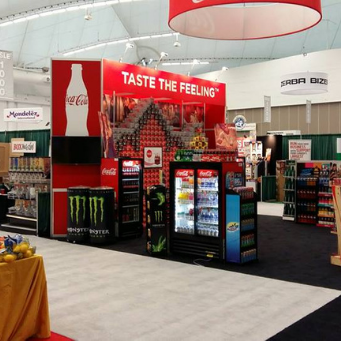 We are pleased to be back in Vancouver at the Grocery and Specialty Food West Show.  If you are attending the conferance or just the trade show drop by our booth to learn about the e-commerce solutions we supply to several food retailers. We have helped grocery store chains go online since 2002.
Interested in driving innovation in food safety and HACCP, learn how software can help manage risk, achieve compliance and provide unified governance of your entire quality and safety program.
At conferences it is always good when you have good neighbors.  ColdMax (Ice Cold) was right next to us.  They offer a catalyst product that can be injected into older HVAC equipment to improve efficiency driving down energy usage and making a positive impact on the Environment. On the other side is an importer and wholesaler of chocolate from central and south America.
Just over is an old friend in a new role.  For many years Mighty Oaks supplied an ERP solution used by a major reforestation company with nurseries in BC, Alberta, the Pacific Northwest and Montana.  Our software managed ordering to operations of the green houses.  Interesting bumping into mangers at a competing nursery that remember using our software several years later.
Always an interesting event that bring together a real mix of CPG and local independent processors and producers.  Over the past few years we have been members of the BC Food Processors Association and gained a much better understanding of the challenges that the industry faces.  From food safety, to logistics, to the technology challenges of addressing the need for EDI integration with modern ERP technology.
Event Details:
   CFIG - Grocery & Speciality Food West
   April 4-6, 2016   

   Vancouver Trade and Convention Centre - East
   Vancouver, BC   
Details on the event from  https://cfig.ca/gsfw-conference/
Details on the conferance:  https://cfig.ca/gsfw-schedule/