---
Creating an Ideation Centre
- Dec. 3, 2020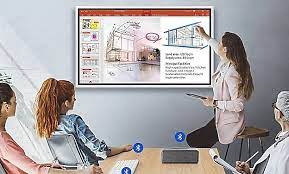 One of Mighty Oaks defence and aerospace customers in Victoria was in need of creating a center to support project ideation and education.  Looking to create a space where both local and remote members of the team could collaborate and exchange ideas.  Mighty Oaks used a combination of Samsung Flip 2, Lenovo Nano and Owl Labs video conferencing technology to achieve these goals.   The customer regularly works with 3D virtual reality and augmented reality technology so ensuring inter-operability with existing immersive technology was critical. 
We created two similarly equipped rooms each equipped with wall mounted 65 inch Samsung Flip 2 smart boards. The Flip 2 is idea with built in tools for ideation, presentations and interactive displays.   We considered some other smart board technologies but for this application found the Flip 2 to have the best match. 
To allow remote participation we integrated Owl Labs 360 degree camera and audio systems.  Key advantages of using the Owl Labs technology was the ability to quickly and easily switch between different video conferencing systems depending on the participants as sessions would regularly involve various defence contractors and the DND participants.